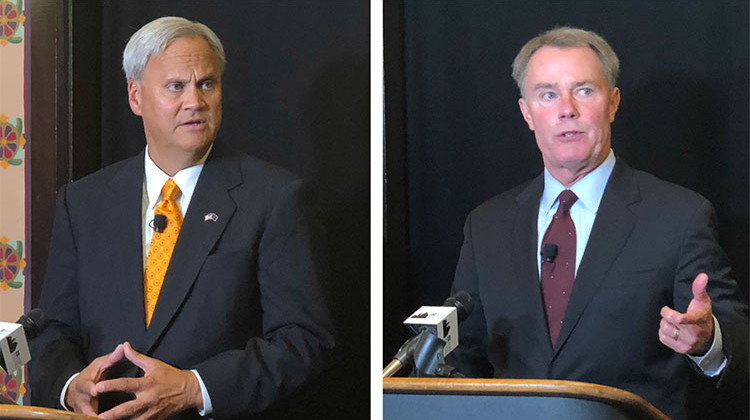 Republican challenger Jim Meritt (left) and incumbent Democrat Joe Hogsett (right) spoke separately to the media after the debate.
Darian Benson / WFYI
Indianapolis mayoral candidates, incumbent Democrat Joe Hogsett and Republican Senator Jim Merritt, participated in the first debate of the race last Thursday. One of the hottest exchanges was above the minimum wage.
Hogsett's current anti-poverty targets include a proposal to require a minimum wage of $ 18 an hour for new jobs when a company applies for tax incentives.
"This inclusive growth strategy is supposed to be creative in order to bring wealth to people," says Hogsett. "Whether that increases wages, developments that offer childcare to people who need it, whether there are more transit options."
Merritt says he hasn't read this plan, but it worries him about the city's ability to compete for new jobs.
"I really think a $ 18 price tag really diminishes our ability to compete with Carmel or Greenwood or even Denver … Seattle," Merritt says. "The bottom line is that we have to be competitive in order to grow our community."
Merritt says he wants people to stay here to work. According to Hogsett, the quality of jobs is more important than the quantity of jobs if you are to fight poverty.
Both candidates say systemic racism is a root of economic inequality. Hogsett says his policies will empower black, low-income communities. Merritt says he'll share his plan to help these communities next month.
Both candidates agree that food insecurity is a critical issue in the city. The food insecurity rate in Indianapolis is more than 17 percent as measured by the national nonprofit Feeding America.
Hogsett says he is fighting the problem on several fronts.
He says hunger is part of a bigger problem – poverty. He believes education is one of the most important ways to fight poverty.
"It is generally accepted that the quickest ticket out of poverty is a quality education opportunity," says Hogsett.
Merritt continued his criticism that Hogsett's plans fail to address the root causes of the problem.
"I think we need a solid program of bringing groceries home," Merritt says. "I think we have to teach the kids in school the importance of fresh food."
Both candidates are opposed to a new tax on local residents to pay for the road infrastructure.